---
Special Offers
Call today and receive
50% OFF
selected window and door brands and free installation
call now:
(844) 503-6677
---
Photo Gallery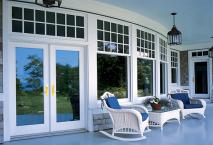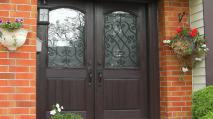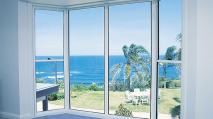 Windows
Vinyl Windows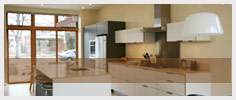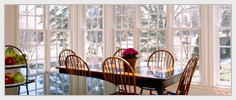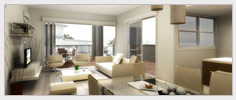 Vinyl windows have been the most popular way to beautify your home for the last 20 years for many reasons.
1. ENERGY EFFICIENCY is the major factor that our customers consider when looking at vinyl window replacement. Dual pane, structure of a frame, thickness of glass, low emissivity (LowE2) and argon gas are the main factors that contribute to energy efficiency. Most of the federal and local rebates are based on vinyl windows replacement products.
2. VERY LITTLE MAINTENANCE - in most cases vinyl windows require very little maintenance. Just wash the dirt off using a water hose. In cases of light staining, not discoloration, paint thinner can be used to clean the frame but call us before you do that.
3. NO DISCOLORATION OR FADING - color is infused in the material, which means there is almost no fading or chipping. Of course, as in every industry, quality depends on the brand name of manufacturer. Less expensive vinyl contains higher amounts of PVC, Poly Vinyl Chloride, which causes discoloration. We carry different quality manufacturers because every project is unique.

4. MULTIPLE COLOR COMBINATIONS - We provide replacement vinyl windows in different colors such as white, almond and bronze. Vinyl windows can be of a different color on the inside and outside. For example, bronze on the outside, white on the inside.
5. MULTITUDE OF STYLES - we offer every style imaginable when it comes to vinyl windows. BAY, BOW, GARDEN, SLIDERS, DOUBLE-HUNG, SINGLE-HUNG, CASEMENTS, OCTAGONS, TRAPEZOIDS etc.
6. FRENCH LOOK/GRIDS - grids make a lot of difference to the look of your house. There are many different styles of grids you can use i.e. Perimeter, Queen Ann, Square just to name a few. We can help select appropriate style of grids for your house.
7. INSTALLATION - last, but not least, vinyl windows are relatively simple to install. All vinyl windows are available in retrofit, block and new construction frame style. Keep in mind though, no matter how simple the installation may be, the installers must be factory certified, as ours are.

When you decide that it's time to revamp your home, please, give us the opportunity to earn your business. With our huge selection of vinyl windows, great prices and excellent customer service, we guarantee to have the perfect product to suit your needs.
Schedule your FREE in-home estimate appointment NOW by calling us or clicking on the orange button below.